Useful Links
---
Free Financial Management Resources - Free downloadable Excel spreadsheets as well as financial management, value analysis, and performance measurement information to help in making your accounting process a more value-added asset for your business. Provided by Matt Evans, Creative Value through Excellence in Financial Management.
Starting or Expanding a Business in Tennessee - The Tennessee Department of Revenue offers a variety of resources for those interested in starting a new business in Tennessee, whether a business is currently located in Tennessee or looking to relocate here. In addition to the necessary requirements to start a business, incentives are available for relocating and expanding business in the state.
Small Business Administration Business Planner - The Small Business Planner includes information and resources that will help you manage your business from start to finish.
Federal Small Business Grants - Through the Small Business Innovation Research (SBIR) Program and the Small Business Technology Transfer (STTR) Program, the SBA provides grant opportunities that ensure the nation's small, high-tech, innovative businesses are a significant part of the federal government's research and development efforts.
Ten Steps to Hiring New Employees - Understanding your regulatory requirements as an employer is crucial to the success of your business. This guide lays out ten easy steps for new employers to follow to ensure compliance with key federal and state regulations.
Business Name Availability - Searchable Business Entities database to determine if a proposed business name is available for use in the State of Tennessee.
Tennessee Small Business Development Center at Vol State - Free and confidential one-on-one counseling for existing and start-up small businesses. The TSBDC consultant provides guidance in marketing, operations, management, or any other step along the way including:

1. Training seminars on a wide array of topics for small business owners.
2. Assistance with various funding proposals including SBA loans.
3. Referral to professional services and agencies.
4. Answers to frequently asked questions about starting a small business.

Virtual Small Business Tax Workshop - An interactive IRS program to help the new business owner understand and meet their federal tax obligations.
Small Business Loans - Tennessee has launched a new $25 million Tennessee Small Business Jobs Opportunity Fund offering loans to small businesses in all 95Tennessee counties. The public/private collaboration between the state of Tennessee, Member Banks of the Tennessee Bankers Association and Pathway Lending will bring together capital resources to maximize statewide impacts for job creation and business expansion.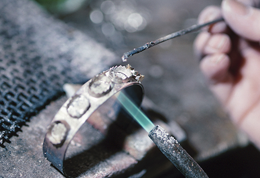 ---